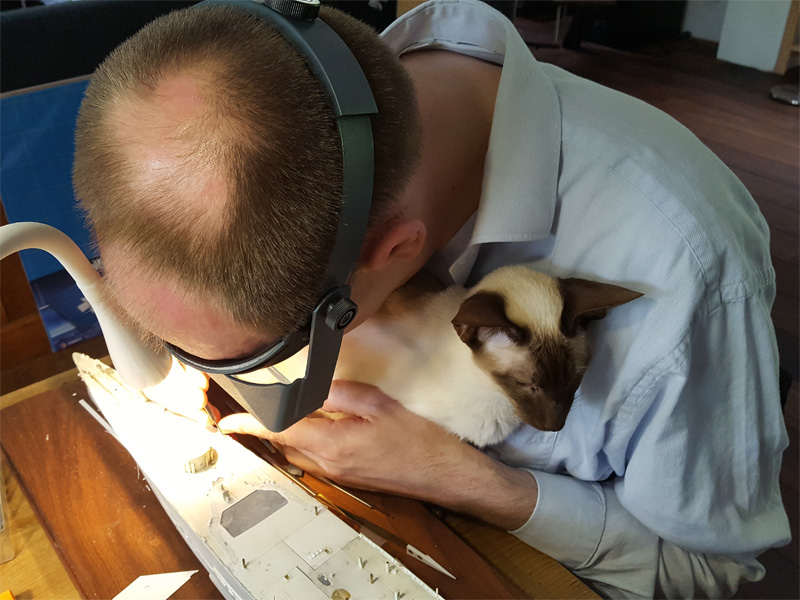 My name is Evert-Jan Foeth (1975) and I work at the Maritime Research Institute Netherlands; I specialize on automated propeller design using optimization techniques. My ship building hobby has little in common with my job though; most of my colleagues enjoy sailing more than naval history. My modeling hobby is usually dormant but every so now and then it seems like a good idea, so, it's not progressing really quickly. My others are reading history (not only naval), the "occasional" PC game, a bit of DIY audio, music (mainly classical but Radiohead and so on when the wife is outside hearing range), our cats, TV series and wine. At the moment HMS Hood is shelved for some Lego projects (because, why not).
Some recent work-related publications:
Some (already obsolete) work on generic propeller optimization methods, presented at the Symposium of Marine Propellers, 2015, Austin, USA.
A nice paper where we attempted to localize the original of cavitation noise in a propeller during operations using an array of pressure transducers in the hull of a ship, presented at the Symposium of Naval Hydrodynamics 2016. Monterey, USA. This work included a lot of theory, extensive model testing and a trial on board a ship  including going back and forth over a sound range for three days.
Upcoming posts (Aug 2018)
Modeling: Painting the decks
Modeling: Forecastle deck
Audio: assembling my own audio amplifier and programming my digital signal processing unit
Gallery: HMS Rodney, exercises in the med (11 pics, 100% processed)
Gallery: HMS Rodney & DKM Deutschland visit (5 pics, 100% processed)
Gallery: HMS Rodney; miscellaneous (17 pic, 50% processed)
Gallery: HMS Prince of Wales: Launching ceremony (about 25 pics, 25% processed)
Gallery: HMS Diadem (about 10 pics, 50% processed)
You can contact me at:
foeth at ontheslipway.com