Right, my previous pompoms were just perfect if it weren't for the corrosion of the solder (flux, probably). The parts were re-etched and the 100-part pompom is on its way. This weekend I finalized the guns themselves.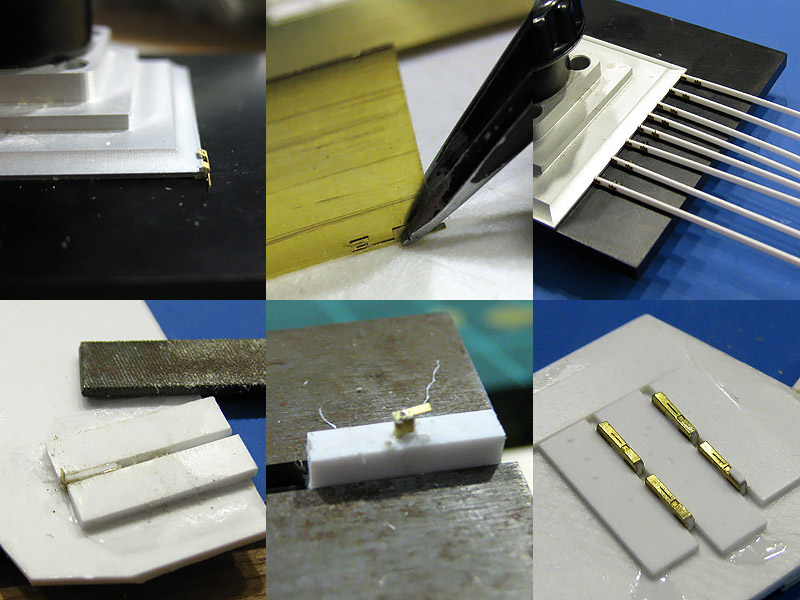 It's very easy actually. Prefold the photoetch part with the small photoetch tool and find out it is far too crude for fine work. Find a part of brass strip to finalize the fold. Add evergreen strips that should be the right size. Be dissappointed that they are not and file all parts to the correct height using a filing jig. Replace jig from time to time. Place the part in a small jig and use the drill press to drill in the placeholder for the barrel. Be disappointed that the Proxxon drill press is unable to drill consistently, but be happy you added a photoetch part that acts as a drilling jig. Hold the part with tweezers during drilling so that the drill will not exit the part sideways. Place the guns in another jig and add a small strip on the end. File a fillet to the end of that block. Thoroughly check the gun for CA spots and clean. Add some putty to the end and sand smoothly. Find out that Tamiya putty is no longer sold in Europe and order from Singapore. Wait for the shipment while Vallejo putty disappoints you.
Because the process seems fairly repeatable I made enough guns for HMS Hood and for my next project (oh yes). Repeat the above at least: 78 times.  Loose mind, despair, find will to live and continue. Fairly straightforward scratch building.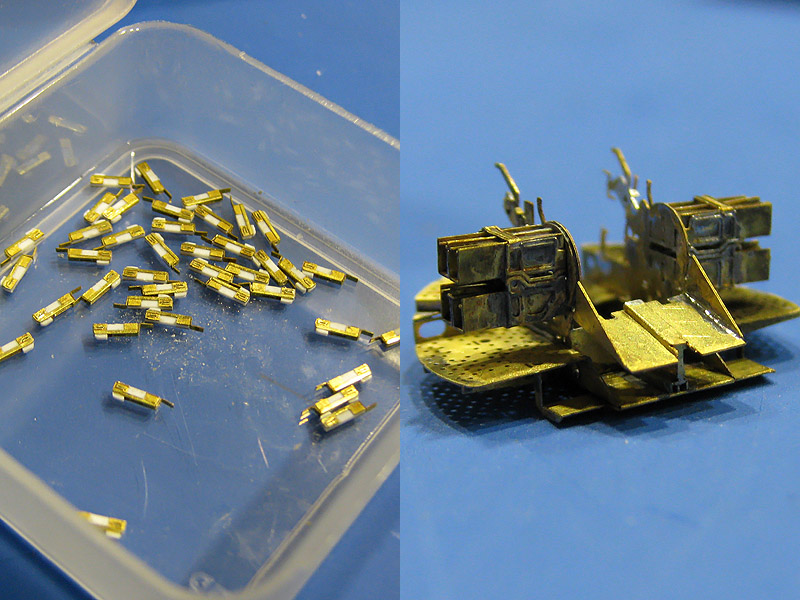 So here is half of them; these guns have a small lip to act as a spacer when added to the gun block that hasn't been soldered yes. The barrels are on order. The mounts themselves are coming along nicely!
UPDATE 27/7/240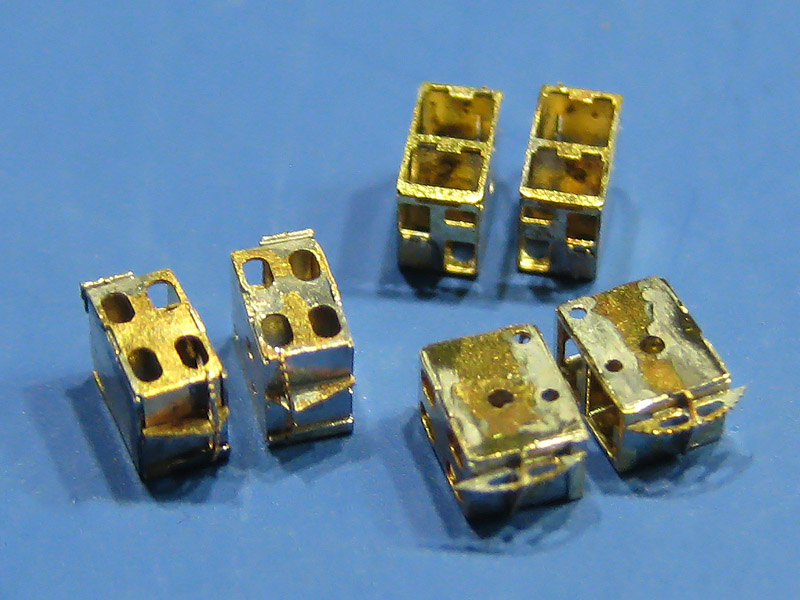 The main gun housings were soldered today with 5 etched parts for each housing: the housing itself, a center shelf that holds the upper guns, one top detail part and the two-part elevation gear parts. The housing part is sort-of self-interlocking, making it easy to hold without the risk of squeezing it with my tweezers. Soldering was quite interesting as applying heat means that some bond will release at another location (the part measures 3.3 x 2.6 x 1.9 mm only). The gun housings are supported in the center for which I made some etched part filled with styrene; the result was 0.1mm too wide and the housings ended up about 0.05mm too wide each, meaning that the sum of thee parts was 0.2mm wide and it didn't fit. I wasted some time making the center parts fit anyway but I'll have to add a new styrene part for that.