Note: type II designation is my own
"These boats were designed for the following purposes
As the principal power boats in Southampton class and later cruisers
as barges for flag officers
As seaplane tenders for aircraft carriers
To supplement 45ft Motor Picket Boats in certain capital ships
The design was submitted for approval on M.F.O. 2323/1938″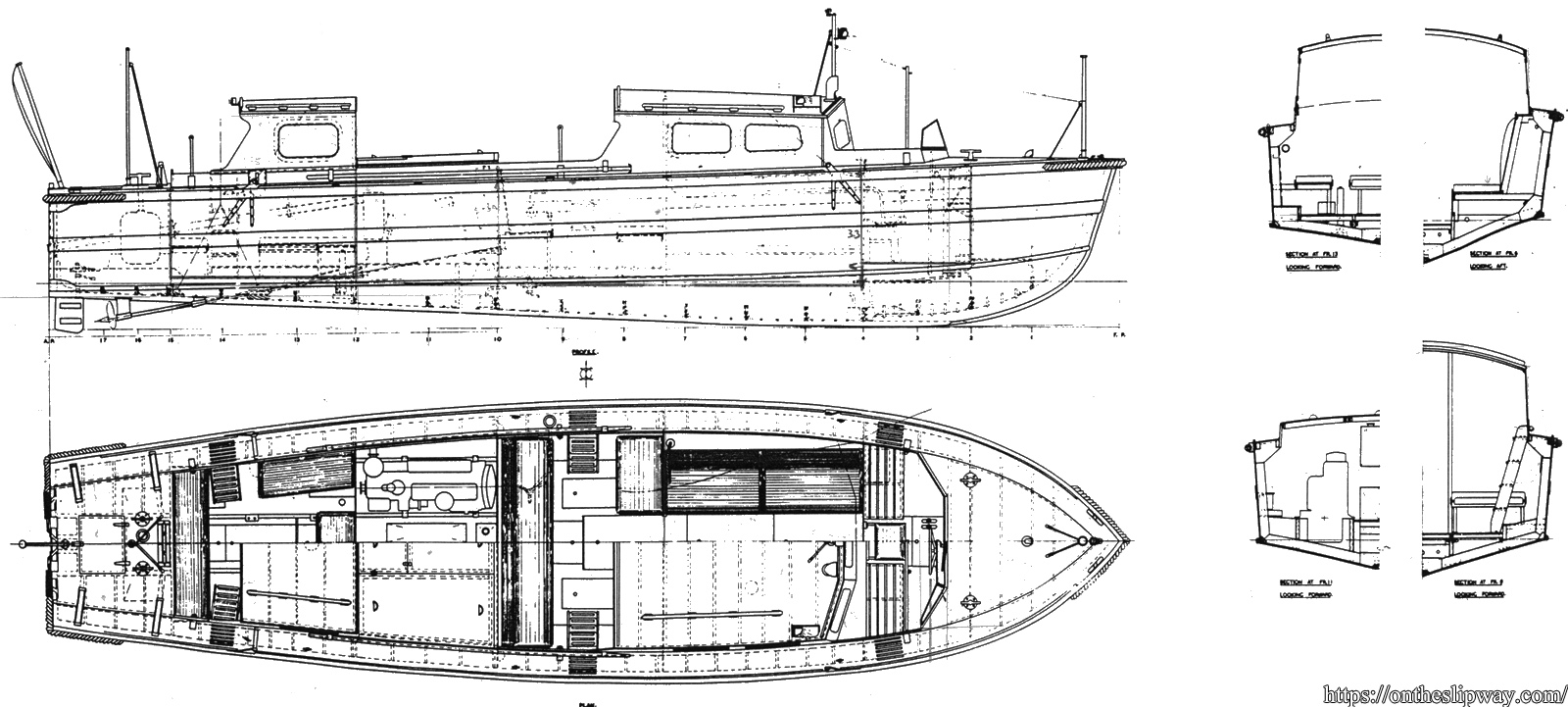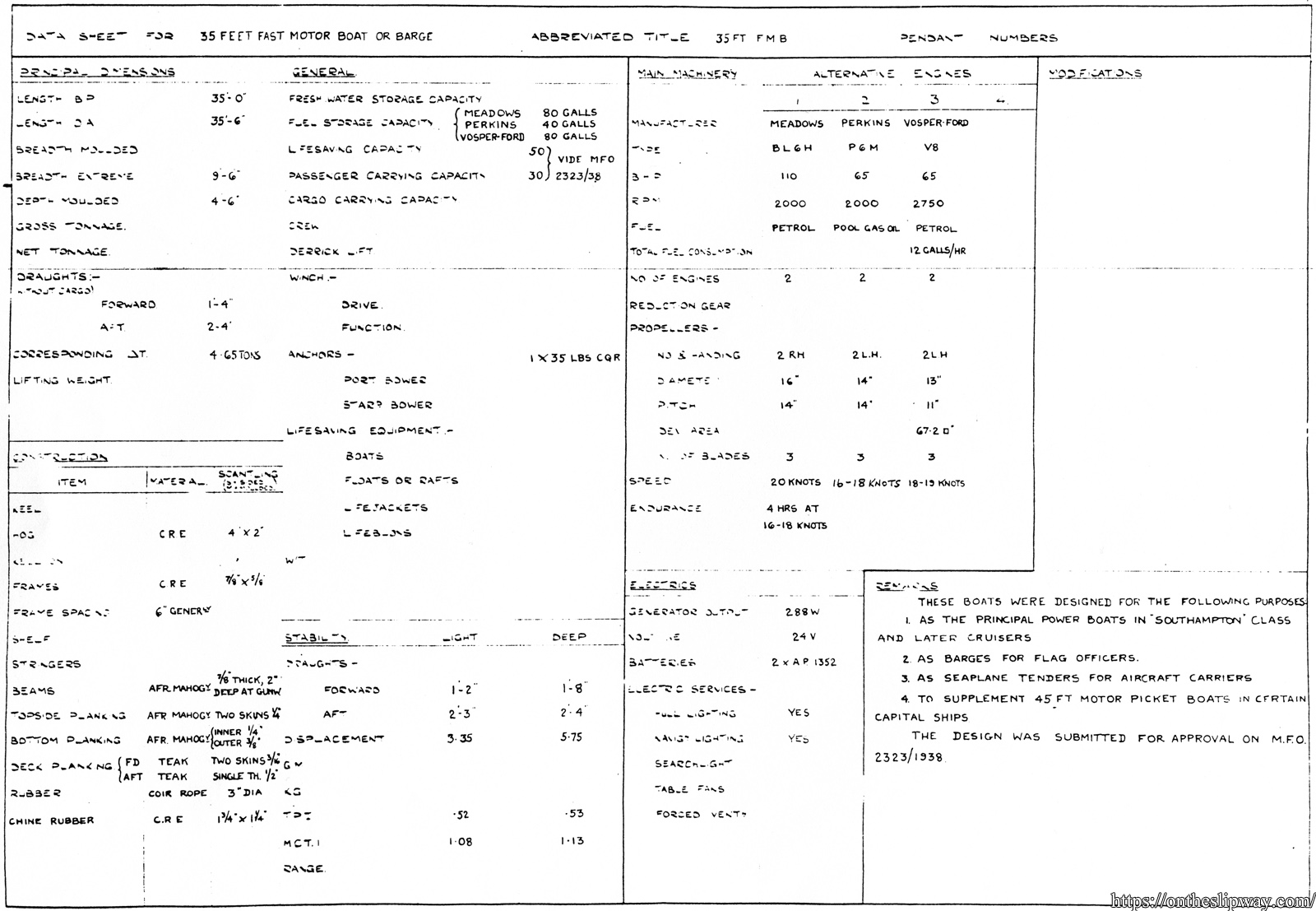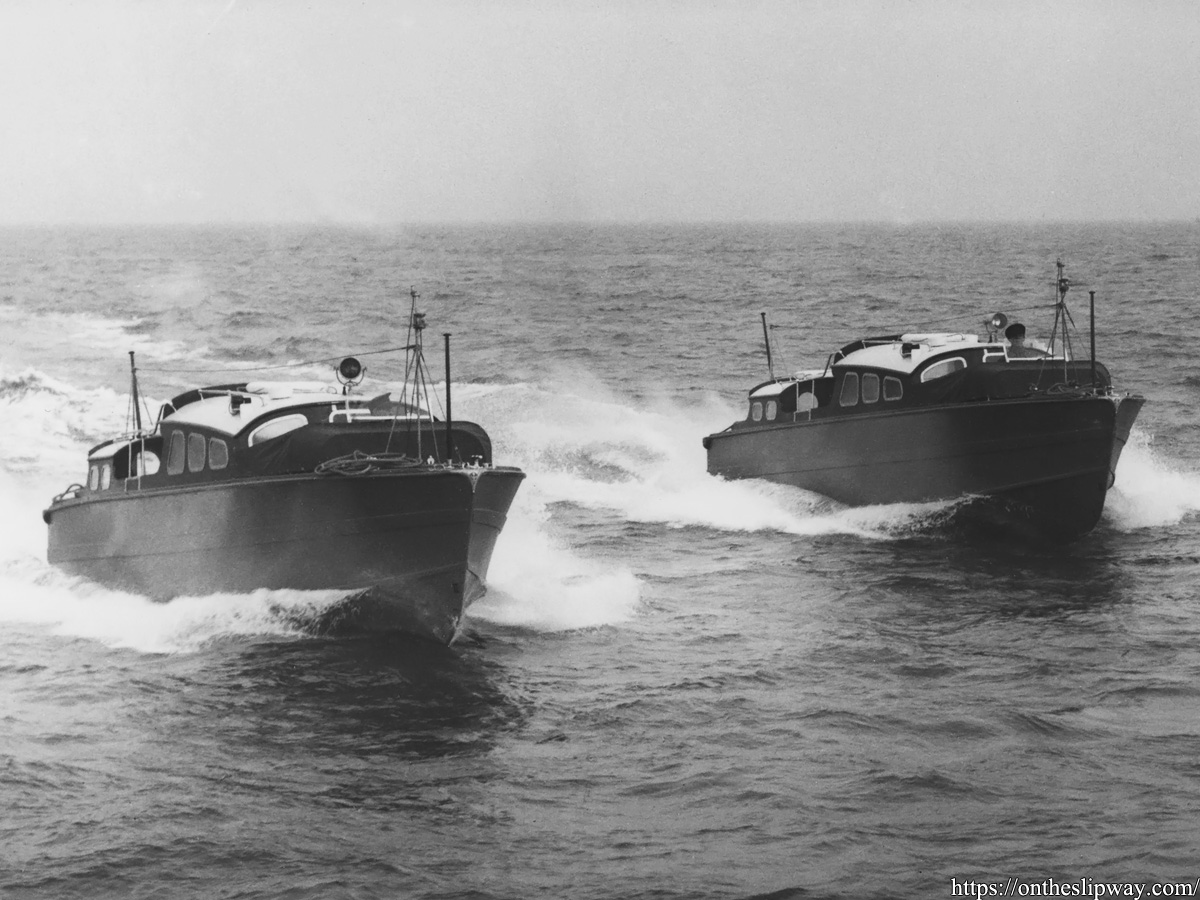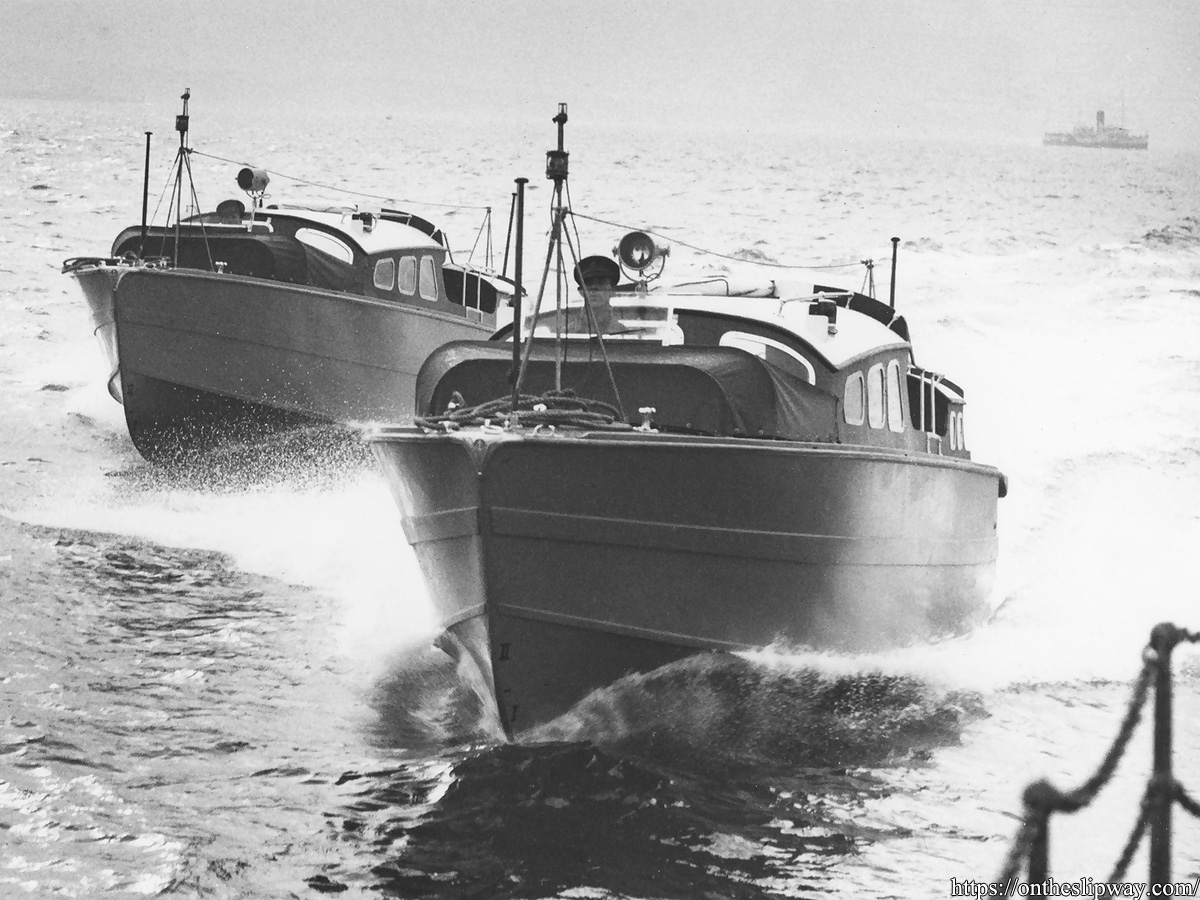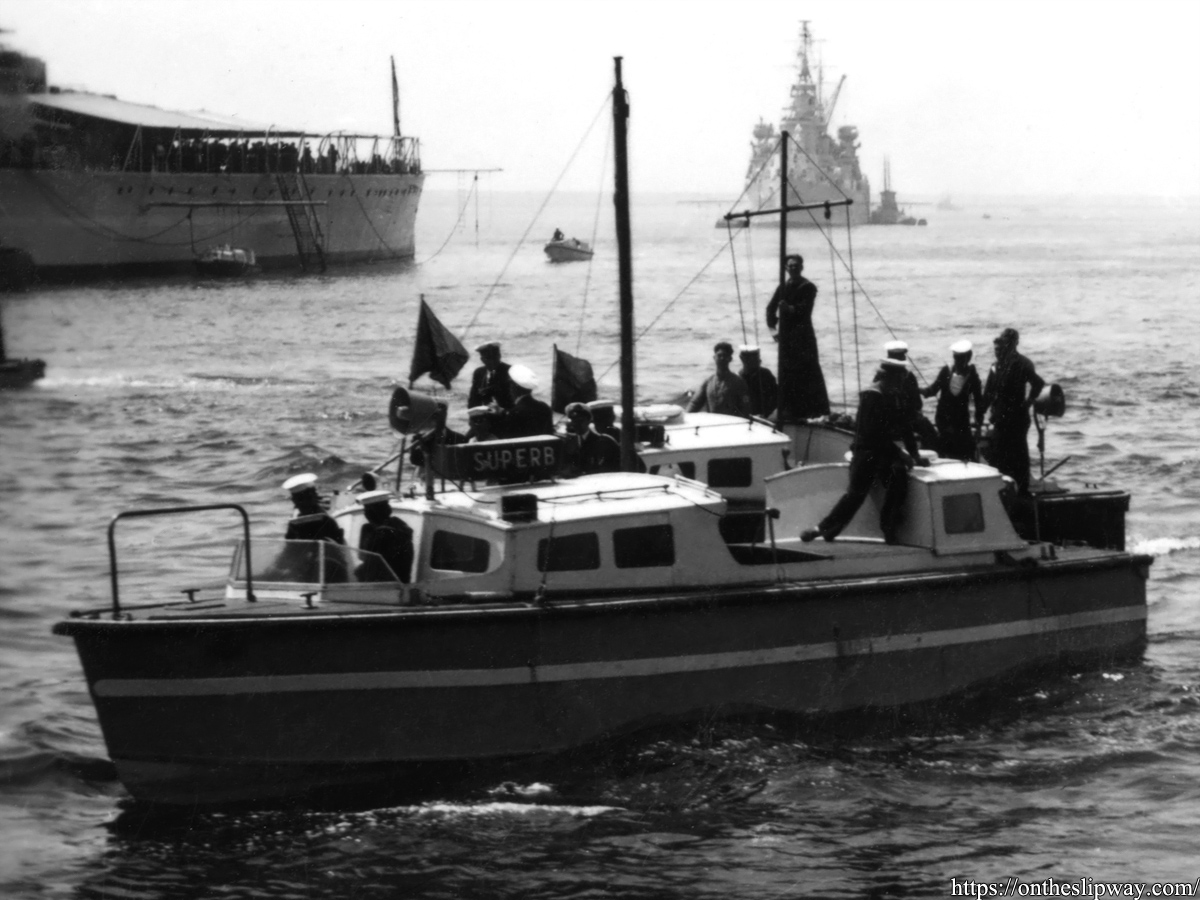 Officers watching the 2nd cruiser squadron pulling  regatta from a 35 ft Fast Motor Boat of HMS Superb (in the background with HMS Duke of York left), May 1947.

Source: Morgan Giles Archives
VICE ADMIRAL SIR JAMES SOMERVILLE'S FAREWELL ADDRESS TO HMS HERMIONE. 6 JANUARY 1942, ON BOARD THE CRUISER AT PLYMOUTH. © IWM (A 6852)

WRENS TRAINING AS BOATS' CREWS FOR HARBOUR DUTIES. 18 DECEMBER 1941, PLYMOUTH. © IWM (A 7034)

ROYAL VISIT TO NAVAL ESTABLISHMENTS AT DEVONPORT. 7 MAY 1942. THE KING AND QUEEN PAID A VISIT OF INSPECTION TO NAVAL ESTABLISHMENTS, AT DEVONPORT. © IWM (A 8480)
This variant appears to have a different configuration of the rear cabin.

WOMEN'S ROYAL NAVAL SERVICE. MAINTENANCE WRENS MAINTAIN SMALL ARMS UP TO 3 POUNDER HOTCHKISS FOR ALL TYPES OF SMALL CRAFT – MTB, MGB, ML, MOS AND MASB. THESE GIRLS KNOWN AS QO (QUICK-FIRING ORDNANCE) WRENS BOARD THE BOATS AS SOON AS THEY COME IN AFTER AN OPERATION, TO STRIP AND CLEAN THE LEWIS AND 0.5 VICKERS MACHINE GUNS. © IWM (A 12200)

ADMIRAL STARK AND FIRST LORD VISIT US TASK FORCE. JUNE 1943, SCAPA FLOW. © IWM (A 17643)

PRIME MINISTER VISITS NORMANDY FRONT. 12 JUNE 1944, MR CHURCHILL TRAVELLED TO FRANCE IN HMS KELVIN, COMMANDED BY LIEUT CDR R M W MACFARLAN, RN. HE WAS ACCOMPANIED BY GENERAL SIR ALAN BROOKE, CHIEF OF THE IMPERIAL GENERAL STAFF, AND FIELD MARSHAL SMUTS, AND WAS MET BY GENERAL MONTGOMERY. © IWM (A 24027)

PRINCESS ELIZABETH INSPECTS OFFICERS AND MEN OF THE MEDITERRANEAN FLEET ON HMS GLORY ON THE KING'S BIRTHDAY. 14 DECEMBER 1949, ON BOARD THE LIGHT FLEET CARRIER HMS GLORY, AT MALTA. © IWM (A 31617)
(foreground barge not ID'ed).