By the start of World War II the number of steam-powered pinnaces, cutters and cutters was in rapid decline with only a few of these boats still in active service, many of them being replaced by Diesel-powered alternatives. The KGV class and modernized QE battleships with aircraft arrangements not designed (or so I assume) to lift these 15 tons boats no longer carrier steam launches.
A large variety in type and size is observed until the launch of HMS Dreadnought, whereby all capital ships carrier two 50ft Steam Picket Boats until the King George V class, with HMS Dreadnought also carrying one 45 Steam Pinnace and one 40 ft Admiral's Barge, and HMS Queen Elizabeth and HMS Barham also carrying one 45 ft Admiral's Barge.
The main differences between the 50ft Steam Picket was its truncated stern a mounting for a 3 pdr Q/F gun forward, while the 45 ft Admiral's barge has a yacht-like stern and skylight forward. Many 50 ft pickets have an aft cabin with an upward sweep in the roof but this is not a defining characteristic.
An excellent drawing can be found in The life and ship models by Norman Ough, by Alistair Roach. Note that this is a drawing an earlier coal-fired picket, while later versions where oil-fired without coaling chutes on deck. Minor variations are observed in the layout of the 'superstructure'.
Cabin roof: corticine, brass handrails. Funnel painted; 'trumpet' polished brass.
"The term steam launch is not included. Naval Officers and ratings referred to each type of steam boat, or craft, by its correct description and never used, even affectionately, the general term picket boat for each steam craft".
https://sites.google.com/site/scapadiscoverypinnace/home
(Note: HMS Hood was fitted with a 45 ft Admiral's Barge, replaced in 1940 by one 45 ft Steam Pinnace, itself removed in 1941 [Roberts, J., 201982])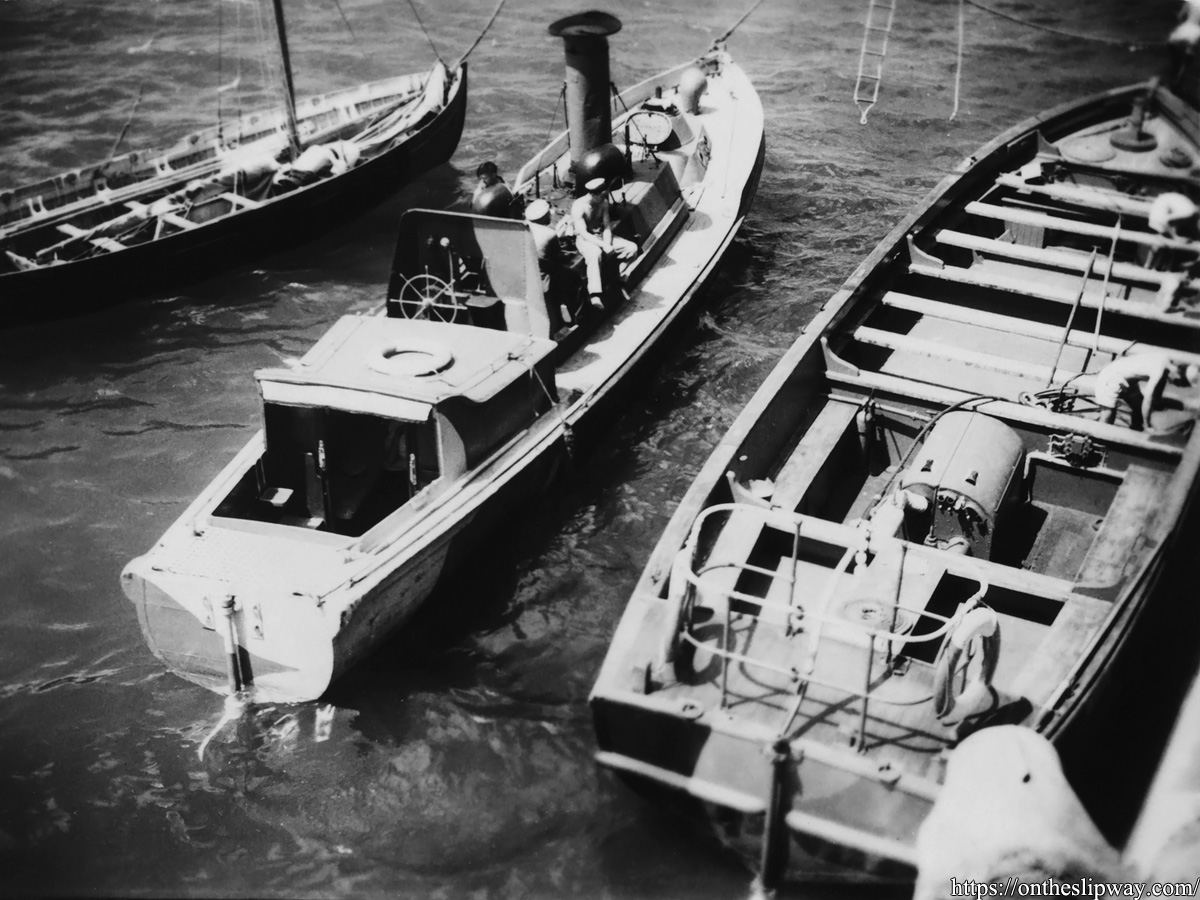 A 50ft Steam Picket of HMS Resolution, probably around 1942-1943 (East Africa). A US navy style 50ft Motor Launch—which she may received while being repaired at the Philadelphia Naval Shipyard—and a 32 ft cutter flank the picket. Note that the camouflage pattern of HMS Resolution is carried over both the launch and the picket.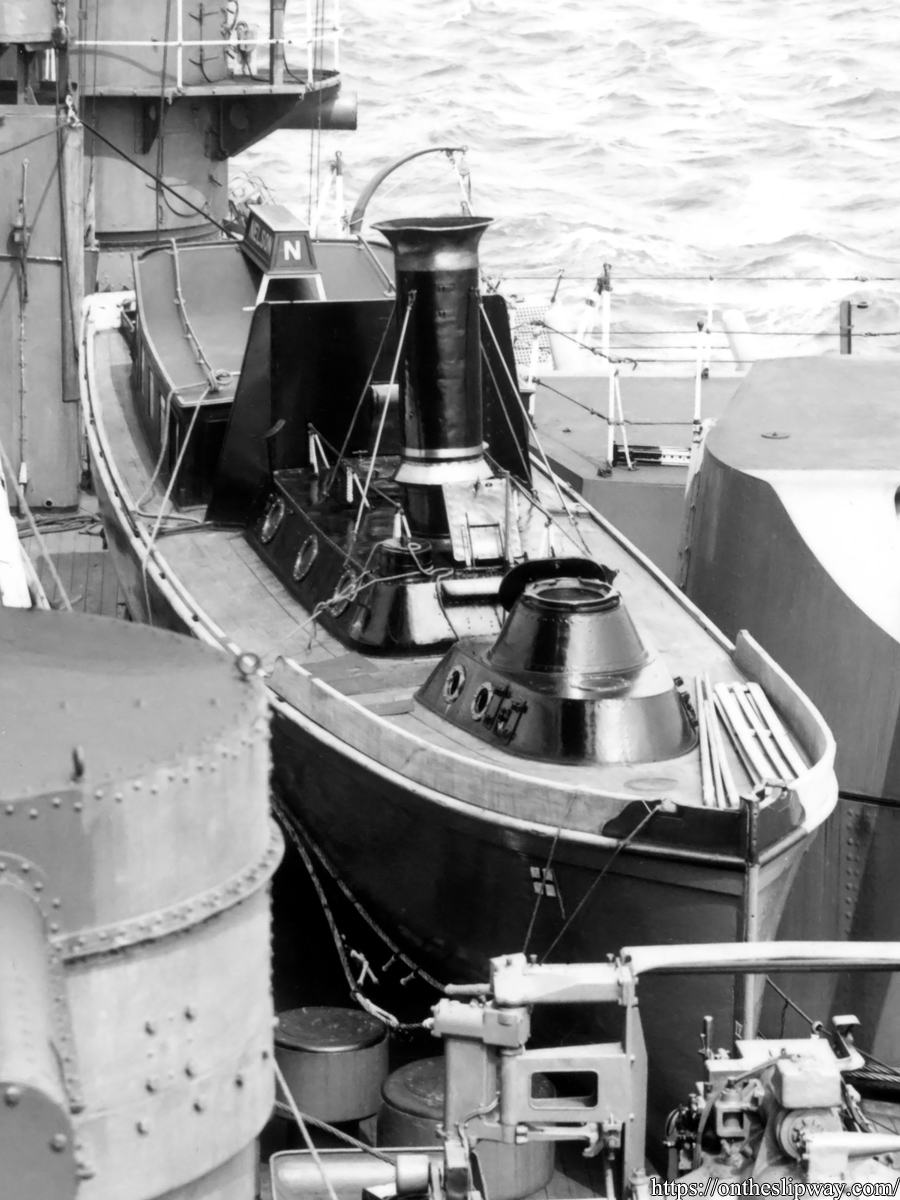 A 50ft Steam Picket aboard HMS Nelson.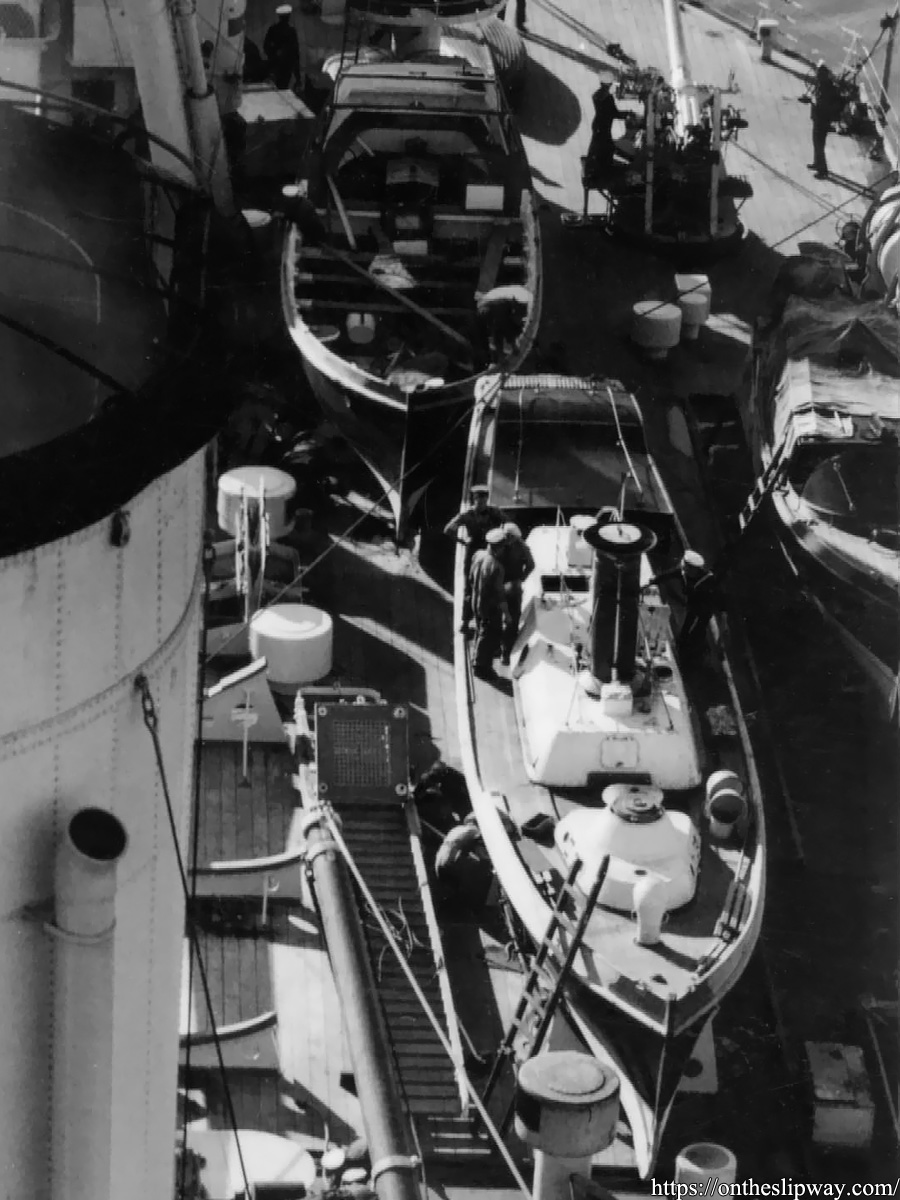 A 50ft Steam Picket aboard HMS Hood, with a 42 motor launch in the background.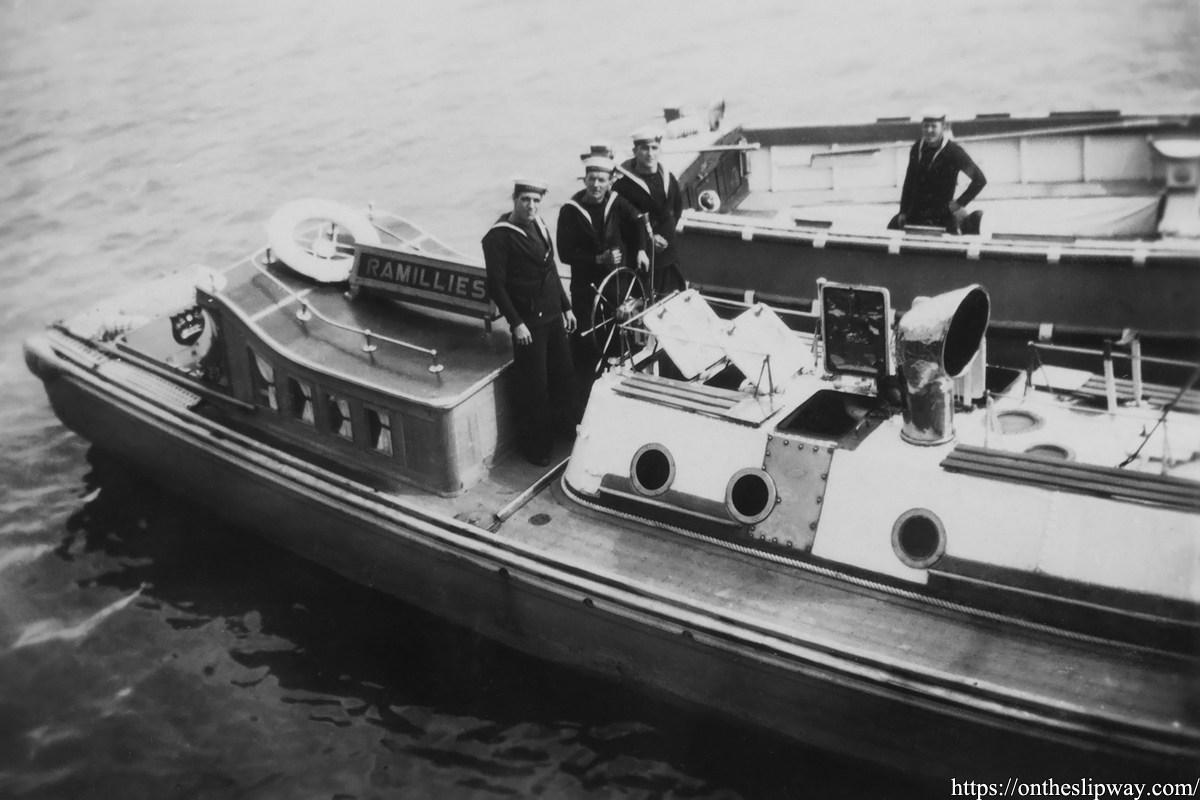 A 50ft Steam Picket of HMS Ramillies, with a 45 motor launch in the background.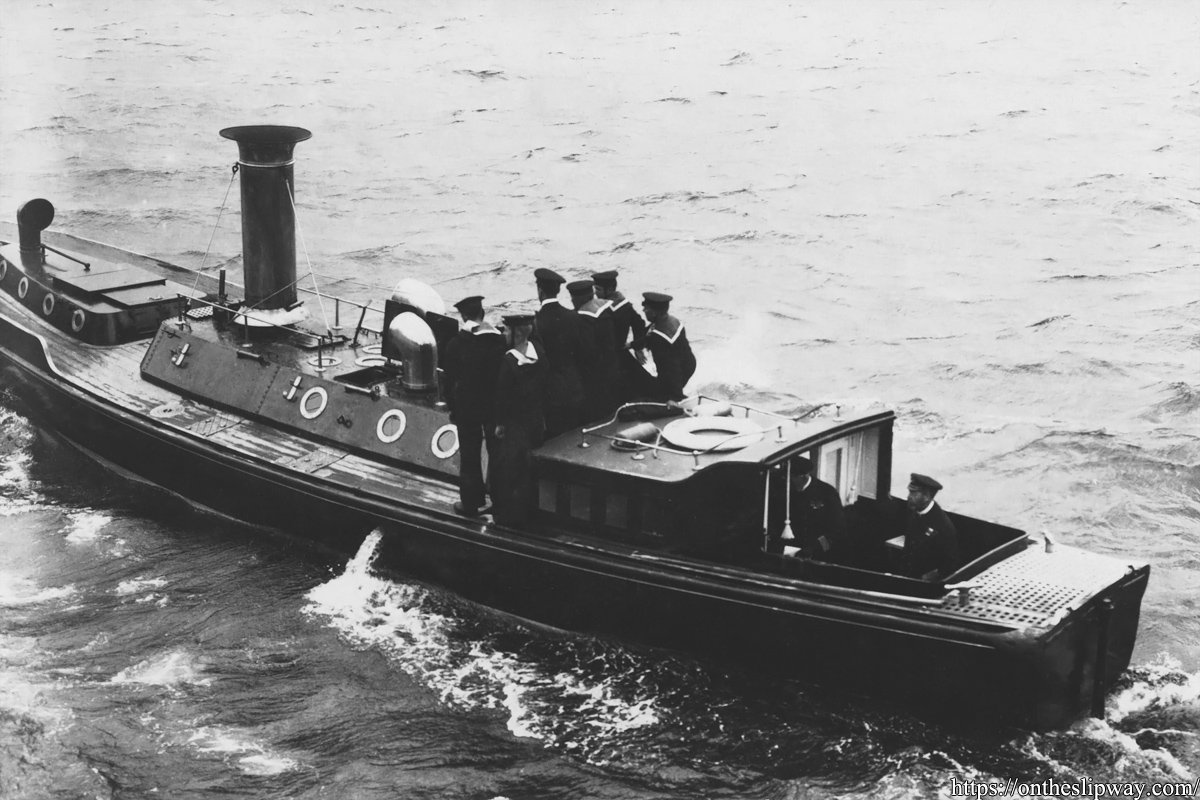 King George V and Admiral Jellicoe in a 50 ft Steam Pinnace.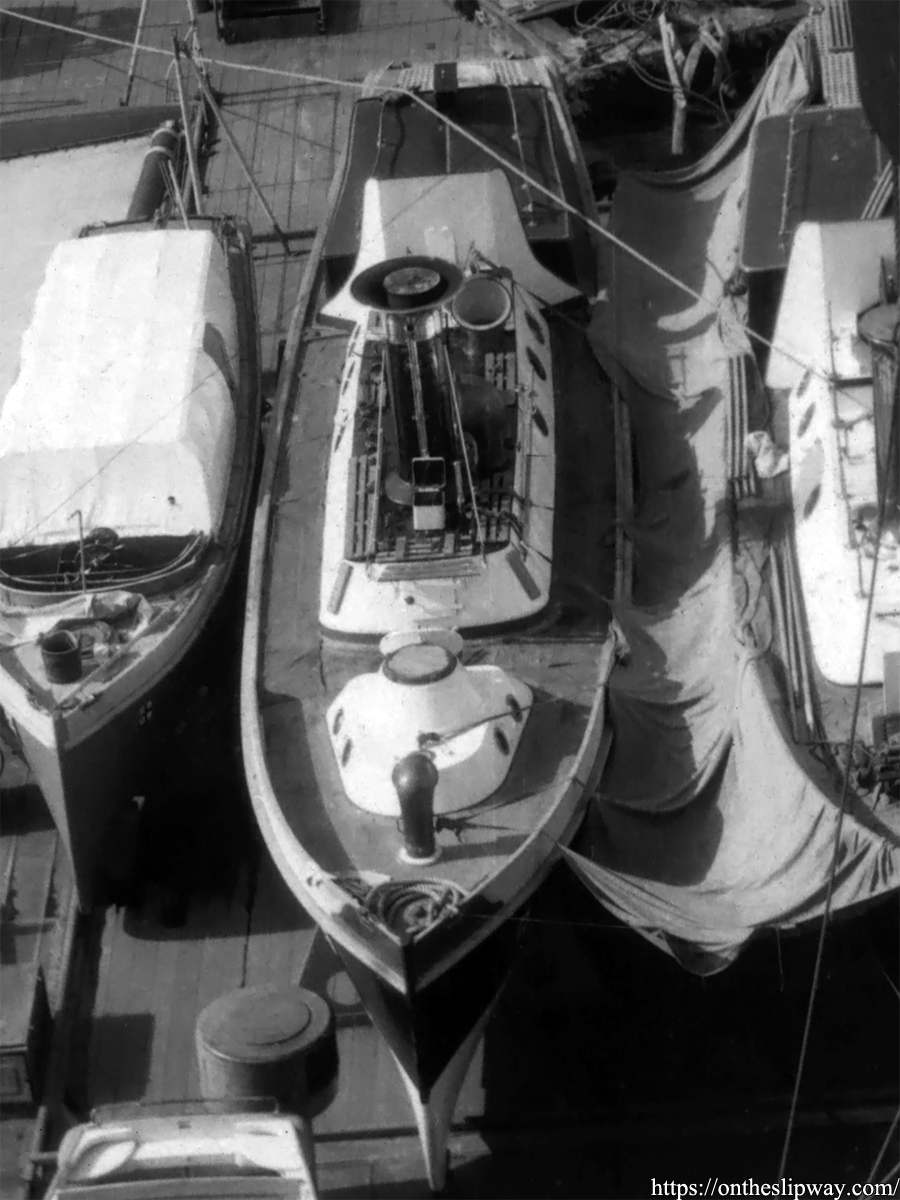 A steam pinnace aboard HMS Hood.
HMS Hood's 50 ft Steam Picket in Vancouver.

THE ROYAL NAVY DURING THE FIRST WORLD WAR © IWM (Q 68743)

ON BOARD HMS RODNEY. 1940, AT SEA, ON BOARD THE BATTLESHIP HMS RODNEY. © IWM (A 101)

MAIL. 1940, ON BOARD THE BRITISH BATTLESHIP HMS RODNEY. © IWM (A 157)

HRH THE DUKE OF GLOUCESTER'S VISIT TO GIBRALTAR. OCTOBER 1941. DURING HIS STAY IN GIBRALTAR, THE DUKE INSPECTED VARIOUS NAVAL UNITS AND ALSO WITNESSED THE ANCIENT CEREMONY OF THE KEYS, WHICH HAS BEEN CARRIED OUT ALMOST WITHOUT A BREAK SINCE THE GREAT SIEGE OF 1779. © IWM (A 5835)