The keel of HMS Prince of Wales was laid at Cammell Laird's shipyard in Birkenhead on 1 January 1937. A number of photographs of the ceremony is being held by the Wirral Archives service; I order a digital copy for personal use. I was so excited by both the quality of the images and how the event was captured that I asked the archives if the images could be published in small format on my blog. They replied I would need the express permission of the copyright holder, BAE systems. As the archives explained "BAE Systems took over Cammell Laird, including its intellectual property rights, as follows: Cammell Laird was nationalised in 1977, and was then privatised again in 1986 when it became part of VSEL Consortium; subsequently the VSEL Consortium was the subject of a takeover and became Marconi Marine, which then passed to BAE Systems. The present company shares the same name and site as the old Cammell Laird, but is in fact a different company." I contacted the legal department of BAE systems; they agreed to my request provided I would place the following disclaimer
"Copyright © 2018 BAE Systems. All Rights Reserved. This work is reproduced with the kind permission of BAE Systems. BAE Systems is a registered trademark of BAE Systems plc"
I would like the express my gratitude to both the Wirral Archival Services and BAE systems both for their assistance and for making it possible to publish these photographs.
Unfortunately, the accompanying information regarding these images is no longer in the archives. However, the photographs are all marked "Stewart Bale, Liverpool", a well-known photographer, with nearly 200,000 negatives in storage at the Stewart Bale collection of the Mersey Side Maritime Museum. I have not written to them, but they may hold some more information.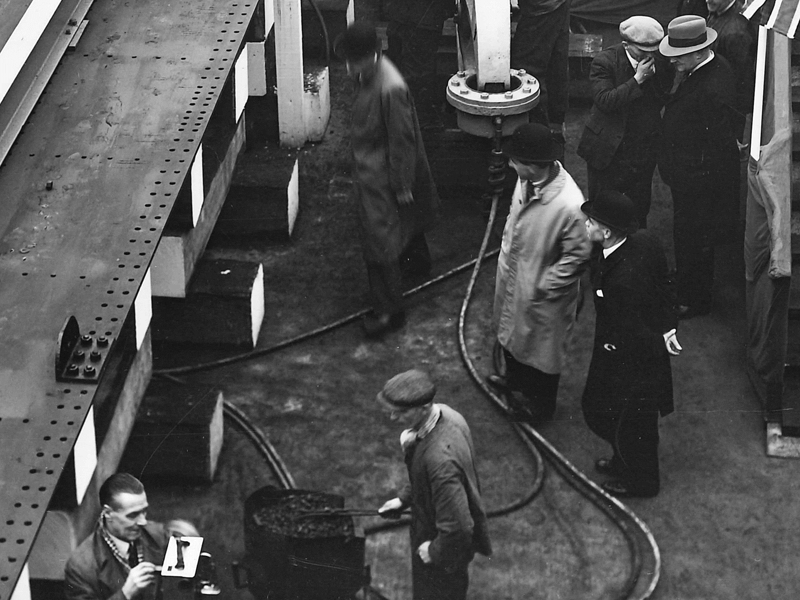 I've manually cleaned up the images, removing dust & scratches and repairing damage where I could. It's not always easy to see the difference between damage or a pocket handkerchief as is the case with the gentleman standing at the bottom of the staircase—comparing with other photographs can rule such errors out— but I've tried to leave the images as close to the original as possible. Note that one of the photographers is captured , as well has a small furnace heating the rivets.